I recently invested a whopping £13 British Pounds (approx. $26 US, or $4,000 Canadian) on eBay to download the following beauty: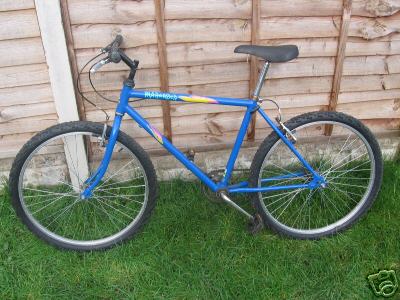 A rocking single speed conversion of a 'Raleigh Marauder'. You might guess from the name that this isn't a quality frame, but it's got rear dropouts long enough to run a single speed, and someone has already done the hard work to convert it, so I'm happy.
So far I've changed out the seatpost (£8 from eBay) and brakes/levers (£14, plus another £7 for ancillary bits). The new seatposts let me use an old saddle from my road bike. I've also got some new bearings for the bottom bracket, and a can of seriously bright yellow spray paint to cover up a few bits of rust. I'll post more progress on it soon, but tomorrow I'll let you know what it's like to ride.
And for those still reading – Yes, I do want to be like Nick 😉