Had an appointment this morning to check on my knee. I was taken back to my childhood, when I practically glowed in the dark from all the x-rays I had taken. Back then I would turn up for my appointment at 2pm (the same as everyone else – the doctor's time was more valuable than ours, so have a stock of us waiting meant not having to bother with any of that Poisson nonsense), wait for half an hour or so to see the doctor, who would barely look at me before sending me for an x-ray (more waiting), before I returned to wait again for the real exam. This time I arrived and they sent me off for an x-ray straight away, speeding up the whole undertaking.
But that only goes so far. I'm a huge supporter of the NHS, but one of the things it doesn't do well (or does exceptionally well, depending on how you look at it) is spinning out appointments. I'm going for an MRI, and the process is so speedy that they'll let me know by mail when it will be (probably 6 weeks). In the meantime, here's a picture of what my kneecap looks like: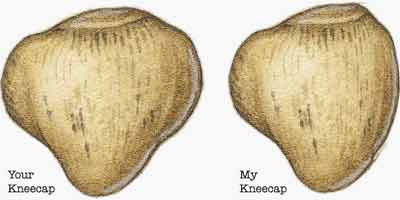 The doc thinks that there's inflammation behind the kneecap, and the dodgy shape probably isn't helping. So at least six more weeks of swimming (I hate swimming, and I don't use the word 'hate' lightly) before I can get back on my bike. And to make it harder, I'm getting a new bike tonight.